Salem Hello
Lokmat el Kadi or awama or اللقيمات in Arabic is an oriental pastry, super easy, economical but requires a little technique.
The goal is to make them a success with a good recipe to melt crispy and soft at the same time.
But especially to make ordinary balls beautiful and there are many techniques for that.
You can just use a piping bag or freezer bags.
Awama Oriental Pastry
True traditional shaping remains by hand, with one hand to mold the ball between thumb and index finger.
To make things easier for you, I recommend helping yourself with a moistened teaspoon.
I'm warning you, once you start eating it, you can't stop. It is too tasty especially with a good tea for the evening of Ramadan.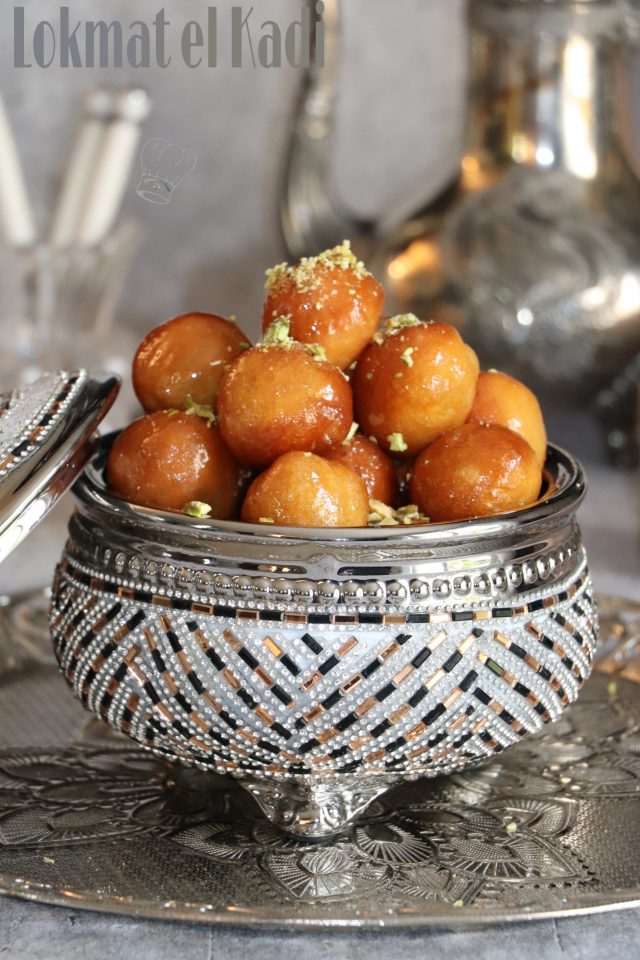 Ingredients: (Use a 20 cl water glass)
1.5 glasses of flour 210 g
3 tablespoons cornstarch (50g)
40 ml oil (4 tablespoons)
1 tbsp instant yeast (8 g)
1 tbsp milk powder (15 g)
1 glass and 1/4 lukewarm water (25 cl)
1 g salt (1 pinch)
Sunflower or peanut oil for frying them.
Recipe for thick syrup HERE
Vanilla
Pistachio chips (optional)
Preparation :
1- First, pour a glass of water into a container, the rest we soak with it, that is, we add it gradually as soon as all the ingredients have been added. Then add the yeast, oil, egg, milk powder, starch, pinch of salt and mix well.
2- Then add the flour and mix well for 5 to 10 minutes with a spatula or by hand. At this point, add the rest of the water little by little, lifting the dough to develop elasticity and make it more flexible.
3- cover with cling film and a clean cloth and let rest for 1 hour.
4- Pass this time when the dough swells and forms bubbles. Heat an oil bath, degas the dough and with your hand we take a little dough and squeeze to make a ball of dough.
5- Use a moistened teaspoon at a time to cut the ball and dip it into the oil. The oil should not be too hot to cook them inside.
6- Remove the lokmas from the hot oil, put them directly into the honey. Soak them in honey and serve with pistachio chips.